ORDERING IS ALWAYS EASY
• Add this kit to your cart by clicking the "add to cart" button below.
• DIY this kit or add an assembly package by clicking the box below before selecting "add to cart" .
• Only pay a 50% deposit now, the balance is due minimum 2 weeks before your cabin is ready to ship.
• Layaway is available if you aren't ready to take your kit right away.
• We accept many payment options and also offer financing
• Enter your delivery address at check out to receive a delivery quote.
• Free pick up in Ontario Canada or Buffalo NY is also available.
Any questions? Just email us at hello@sawmillstructures.com
THIS MODEL IS NO LONGER IN PRODUCTION. PLEASE CHOOSE FROM ONE OF OUR AVAILABLE MODELS.
Throwing an outdoor grilling party doesn't have to be limited to summer.
Say hello to the Kota Grill House cabin, This unique structure has a wood burning Carelia grill built in to the center of the cabin with built in seating for up to 10 people around it. The Kota Grill House is the perfect cozy place to cook up all favorites over a real wood burning open fire and enjoy the company of each other.
A very unique cabin that is easy and quick to assemble and its also more affordable now then ever!
Safety:
Always consult our safety manuals. An open flame inside an enclosed wooden structure requires several important precautions: always have an up-to-date fire extinguisher with you, make sure you have a functioning carbon-monoxide sensor in the hut at all times, never leave a fire unattended and regularly empty the ash container before use. Finally, do not install a Kota Grill with chimney inside a structure attached to your home. Ask your insurance company how far the hut or gazebo should be from the main dwelling (often 50 ft).
Municipal Regulations:
Before moving forward with the purchase of a Kota Grilling House, please consult with your local fire authorities and insurance company. Consider the by-laws in your municipality and explore all channels before purchase.
Click HERE to read more general info about this kit...
We include everything essential for you to create your new cabin structure. The entire kit is neatly packaged on a pallet system that can be shipped anywhere. Everything in the kit is already precision milled to fit together perfectly with minimal fasteners and features our premium double tongue and groove InterStack Log™ wall system with integrated CrossLock Corners™ All of the main parts are also individually ID numbered so it's easy for you to understand where everything goes when you assemble it.
You can purchase this kit as a DIY project and assemble it yourself. All you will need to provide is a level foundation base and your choice of roof covering material.
You can also choose to purchase this kit with an "Assembly Package" add on and we will come to your property and do it all for you in as little as one day. Our assembly package includes Assembly + Ondura Roof covering panels.
*Assembly packages are subject to site inspection for price confirmation and require an approved client supplied foundation base
Read below to learn even more details about this model plus you can download useful manuals, spec sheets and foundation base plans.
STRUCTURE SQUARE FOOTAGE:

BUILDING PERMIT INFORMATION:
[by-law and set backs should be explored before starting any project]

Footprint: Hexagon 74." x 6 walls
Height: 90" Structure + 32" Chimney

6 Pre shingled roof panels
Roof Pitch: 5/12
How to assemble resources:

ASSEMBLY VIDEO:
Watch the assembly video

FOUNDATION BASE PLAN:
View and download a plan to build a wooden foundation base for this model

MANUAL:
View and download the manual

SPEC SHEET:
View and download the detailed spec sheet


Dense grain softwood.
Light blonde appearance and very aromatic.


Log wall in pre-formed panel system

6 pre assembled wall panels.

Double pane windows and doors.
Window screens not included.

INCLUDED: The following items are included in your kit.
Your KOTA GRILL HOUSE cabin kit comes to you very neatly and uniformly packaged In a Crate. The entire kit comes in pre assembled panels including the roof. The roof is already shingled. All of the main pieces are also individually ID numbered so it's easy for you to understand where everything goes when you assemble it. • Pre Assembled log walls in panels (6pcs) • Pre shingled roof panels with pre finished T&G ceiling (6 pcs) • Wood Floors • Windows • Doors with lock set • Fasteners • Trim • Wooden floor system • Carelia grill + chimney • Fish rack • Pan rack • Grate rack • Utensil Hook

NOT INCLUDED: The Following items are not included in the kit
• Foundation Base ( See the "how to" section for an easy to build foundation base plan ) • Exterior Stain. ( See stain section below for what we recommend )

DO IT YOURSELF:
We make it easy as possible for you to assemble and create your very own cabin structure. Our kits are all pre cut and pre measured and we provide plenty of resources below in the "how to section" such as videos, manuals we even give you a foundation base plan to follow.
WE DO IT FOR YOU • ASSEMBLY PACKAGE AVAILABLE:
Don't feel like doing it yourself? That's ok, let us come to your property and assemble it all for you in as little as one day. Our assembly package includes Assembly + Ondura Roof covering panels. You will still need to provide the foundation base of your choice. We provide you with an easy to build wooden foundation base plan below in our "how to assemble" section.
*Assembly packages are subject to site inspection, travel distance and price confirmation. You can add the assembly package to your cart here or add it after at anytime by contacting us. One of our professional assembly agents will need to connect with you regardless to discuss your site and to make sure you are within the assembly region area.
Complete deck building and foundation bases and other related services may also be offered through our select agents in your area. Connect with our customer service team for a telephone consultation at anytime if required.
Approx time to DIY assemble this kit with two people is 10 hours.

CUSTOMER SUPPORT:
We are always available to help. Complete customer care from real live professionals via email, text message and telephone any time you need it.

1 Pallet uniformly packed
7.5'L x 6.5'W x 4'H
Weight: 4500 Lbs

1 Box - 37"L x 47"W x 41"H
Weight: 200 Lbs

1 Box - 27"L x 14"W x 40"H
Weight: 8 Lbs

LOCAL PICK UP AVAILABLE:
Pick up is available at select locations or at a mutually determined distribution center in your area.
DELIVERY:
We deliver to anywhere worldwide.

TRAILER SIZE FOR PICK UP:
Pick up for this model requires a minimum 14' long double axle trailer.
Weight rated to 4,000 Lbs
New heating and air conditioning option

HEAT AND A/C UNIT NOW AVAILABLE FOR THIS MODEL:

Introducing a new ingenious heating and A/C solution that plugs into a standard 110V outlet and provides up to 11,600 BTU cooling and heating in one compact single unit. Can be installed from inside the space in just a few minutes + integrated bluetooth for remote activation and control.
The Maestro Smart Heat Pump is an ideal cooling solution for any time of year and offers heating capabilities during shoulder seasons in temperatures down to - 15 C or 5 F
Maestro Smart 9 HP Model# 01721 – DOWNLOAD SPEC SHEET
Maestro Smart 12 HP Model# 01925 – DOWNLOAD SPEC SHEET

ABOUT VIDEO:
Watch the about video
(opens in a new window, close to return here)

INSTALLATION VIDEO:
Watch the installation video
(opens in a new window, close to return here)
LEARN MORE ABOUT...
FOUNDATIONS • INSULATION • ROOFING MATERIALS • WOOD PROTECTION • UTILITIES

Setting up a foundation base is the first step in starting your project. It is important your structure rests on a level well-built foundation. Choose a location that has good drainage and allows for adequate clearance around the perimeter for assembly.
Your structure can sit on uneven ground as long as you take the necessary steps to level the foundation. There are many types of foundations you may elect to use. You may choose to build our structures on an existing or new level platform such as a deck, patio, driveway, concrete slab or pressure treated timbers on grade. Our suggestion is for you to construct a very simple wooden pressure treated deck frame supported on grade by using pre-formed deck block footings or patio slabs.
You may choose an alternate foundation footing such as screw piles or poured concrete to suit your building site needs.
We have provided you with a complete detailed building plan to create a wooden foundation base for this model. See the "How to assemble resources" section for download.

We are often asked if our structures are insulated. Many of our clients are very happy using our structures with no insulation at all. A decent heat source inside the structure usually is capable to heat up the small space adequately even in colder climates.
The solid wood InterStack Log™ wall system we use to create the main structure of our kits ranges in thickness from 44mm to 90mm thick (depending on the model) The R value of softwood is rated at roughly 1.41 per inch or 1.41 per 2.54 cm However the real hero with solid wooden log structures is the walls thermal mass properties.
When the interior space of your structure is heated the walls act as thermal mass ( think of a large natural thermal battery) Your heat source warms the air and in turn the wood walls absorb and retain a certain amount of that heat and is able to release it back into the structure over time. This is something typical forms of insulation can not do and is unique to solid wood or stone structures. Given the thermal mass properties mentioned we do not feel it is imperative for you to insulate the walls of your structure.
If desired you may elect to insulate the roof of your structure from the outside. This can easily be done by strapping the outside roof with additional lumber and laying in rigid foam insulation panels before you install your chosen roof coverings. This method will help eliminate heat escape in colder climates and reduce the heat intake in warmer climates. This outside insulating method will also allow you to maintain your beautiful interior pine ceiling.
You may choose to also insulate the floor by installing rigid insulation panels into the floor cavity before you apply the floor boards. A quality and appropriate matched heating or cooling source will keep you comfortable in most climates all year long.
Most clients are very happy enjoying their structures with no insulation at all however its your choice to decide what suites your needs
Example of do it yourself rigid foam roof insulation installation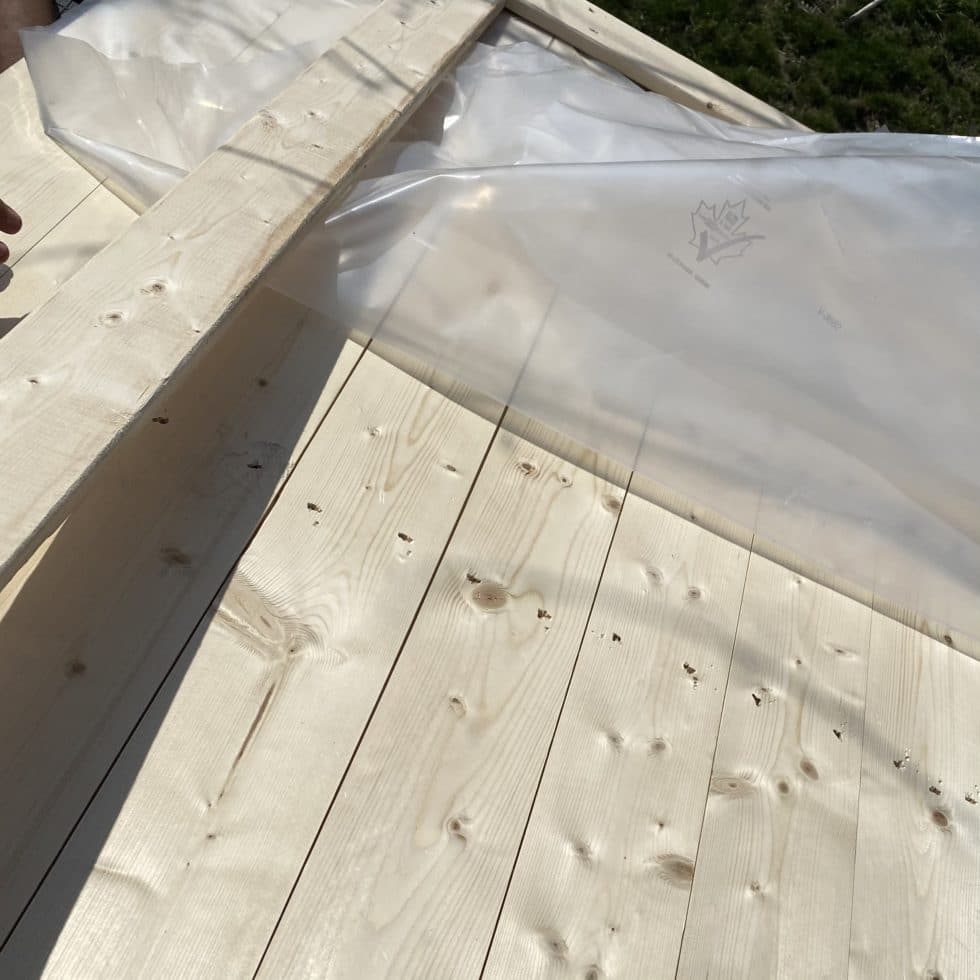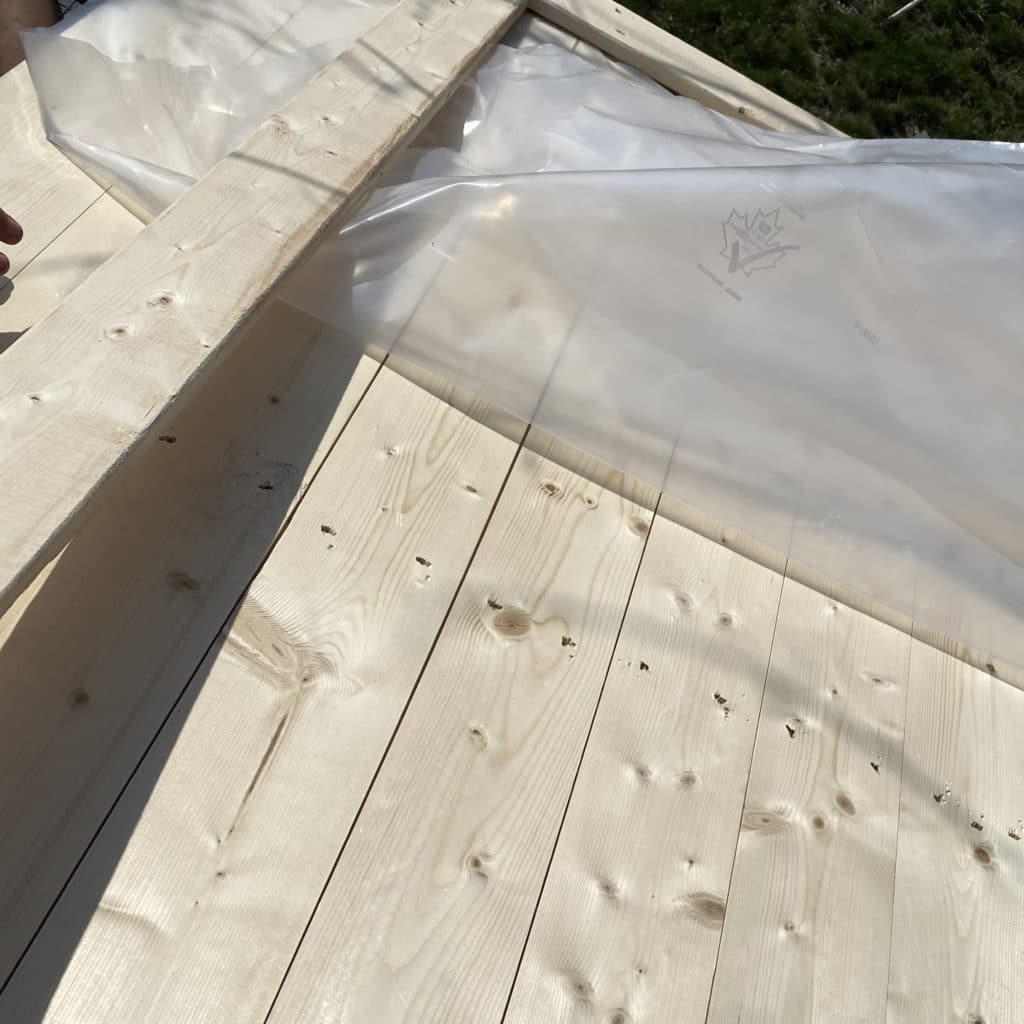 Apply plastic vapor barrier or ice and water shield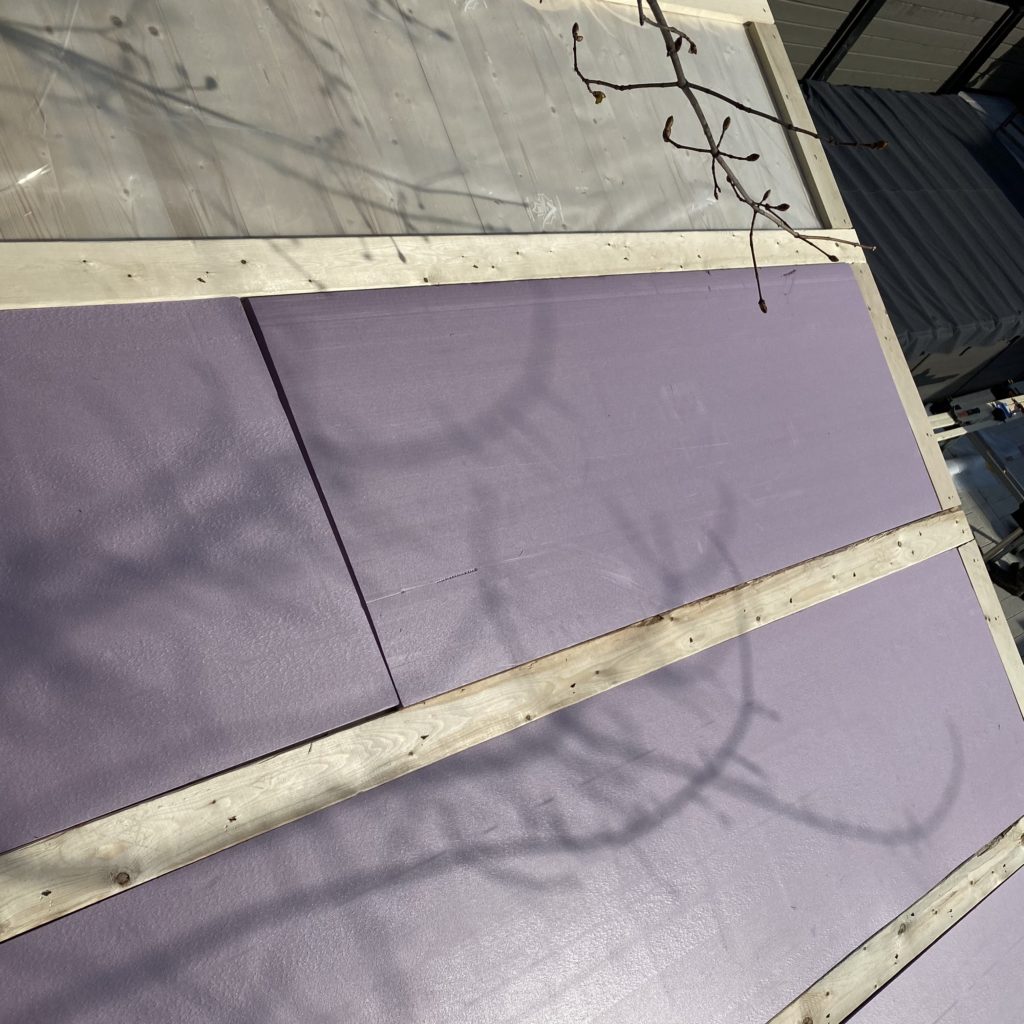 Add strapping in a thickness to fit your desired rigid foam panel
Example of do it yourself rigid foam floor insulation installation
ROOFING MATERIAL / ONDURA ROOF PANELS

Your Kota Grill House comes complete with the roof section already pre shingled, Simply connect all the roof panels together during assembly as show in the manual for a completely finished roof.
Download and view more information about the new & improved Ondura roof panels
Wood Protection / Staining

It is important to protect the EXTERIOR of your new structure. We highly recommend Cutek Extreme which is a super penetrating oil product. It is very easy to apply with a brush and takes about 90 minutes to complete the exterior. Cutek offers super protection from the elements while providing a beautiful luster to our wood. One Gallon of Cutek Extreme typically is enough for two coats on most structures. Tints are available if desired but we love the natural tone.
www.cutekstain.com– available at Home Hardware and select retailers
IMPORTANT: The interior of your structure does not require any wood protection other than adding a polyurethane to the floor to avoid scuffing

Plumbing: We do not offer plumbing services, however all of our structures can easily accommodate your plumbing needs via installation through any local licensed plumber.

Electrical: We do not offer electrical services, however our structures can easily accommodate any of your electrical needs such as outlets and lighting. Your best solution to install wiring and electrical in our solid log wall structure is by way of pipe style conduit or baseboard boxes. These solutions can easily be provided and installed through any local licensed electrician.